This Day in History – March 7th
Hang on for a minute...we're trying to find some more stories you might like.
On this day in 1932, John Phillip Sousa, one of America's widely popular composers, died. He composed 136 marches, 15 operettas, 70 songs, and many other pieces.
Sousa was born in 1854 in Washington, D.C. He was the 3rd born child of 10 children born to John Antonio Sousa, who was born in Spain to Portuguese parents. His father played the trombone in the U.S. Marine band. He grew up around military band music. By the time Sousa was 6 years old, he began studying music and played many instruments, including voice, violin, piano, flute, cornet, baritone, trombone, and alto horn.
In 1872, Sousa published his first composition, "Moonlight on the Potomac Waltzes." Many members of the band association were thrilled to hear this composition and continued to support Sousa in the years ahead. Sousa conducted "The President's Own," serving under presidents Hayes, Garfield, Cleveland, Arthur, and Harrison. After 2 successful but limited tours with the Marine Band in 1891 and 1892, promoter David Blakely convinced Sousa to resign and organize a civilian concert band.
In 1892, the first Sousa Band concert was performed at the Stillman Music Hall in Plainfield, New Jersey on September 26th. Two days earlier, the bandleader, Patrick Gilmore, had died in St. Louis. Many of Gilmore's former musicians eventually joined Sousa's band, including Herbert L. Clarke, which played the cornet, and E. A. Lefebre, who played the saxophone. The original name of the band was "Sousa's New Marine Band," but criticism from Washington forced the withdrawal of the name.
In 1910, Sousa's band did their first world tour. They traveled and played in New York, Great Britain, the Canary Islands, South Africa, Australia, New Zealand, the Fiji Islands, Hawaii, and Canada. Only 30 years later, Sousa died at age 77 on March 7th, after conducting a rehearsal of the Ringgold Band in Reading, Pennsylvania. The last piece he conducted was "The Stars and Stripes Forever."
About the Writer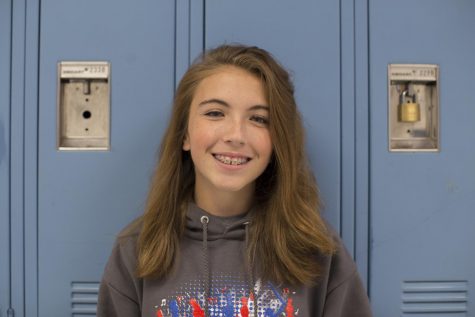 Maire Birdwell, Design Editor
Maire Birdwell is a freshman at Lafayette and she is happy to say that she is the Design Editor.  She contributes to Lafayette by marching with our outstanding band, helping others, and giving our school a good atmosphere. Her whole life is surrounded by music since her parents are both music professors, and listening to...