The Kentucky Teacher Achievement Awards
Every year, Kentucky's Department of Education chooses 24 winners for the Kentucky Teacher of the Year Awards, sponsored by Valvoline.  These awards are given to educators that were the best of the best, who worked the hardest for their students, and, most especially, the teachers who love teaching the most.
"It is my pleasure to once again recognize the 24 Valvoline Teacher Achievement Award winners and the Kentucky Teachers of the Year. Having the opportunity to recognize and support outstanding teachers that bring energy, passion and dedication to the classroom highlights our commitment to community, especially in preparing students to excel in a global society," said Sam Mitchell, chief executive officer of Valvoline.
This year, the High School Teacher of the Year Award was given to Tiffany Marsh, a choir teacher in our neighboring school at Paul Laurence Dunbar High.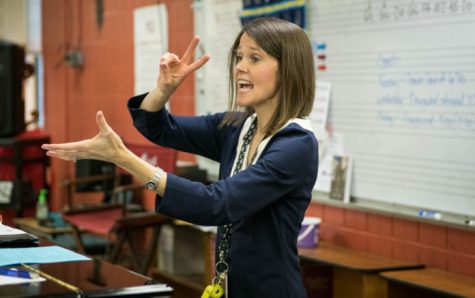 "It's a part of education that is tremendously important because of the different skills that students learn — the teamwork, the leadership building, the creativity," Marsh said. "It prepares these students for real life in a lot of circumstances. It can be carried through in any avenue they decide to go, whether its music or not."
Marsh received $3,000 from her award, and so did NyRee D. Clayton-Taylor, a creative writing teacher at Phillis Wheatley Elementary in Jefferson County, that won the Elementary School Teacher of the Year.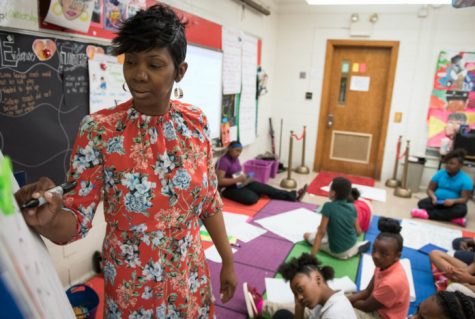 NyRee Clayton-Taylor uses hip-hop music in her creative writing classes at Jefferson County's Phillis Wheatley Elementary to help her students showcase their reading and writing skills.
The overall Kentucky Teacher of the Year was Jessica Dueñas, a 10-year teaching veteran who has taught special education classes for three years at Oldham County Middle School.
"I want to continue a lot of the advocacy work that I do for different populations that are struggling, whether they live in poverty or in a trauma-filled home or a trauma-filled community," she said. "Those situations create barriers, but they can be removed. I'm a living example that barriers can be removed. If I can do it, so can any child in the state of Kentucky," says Dueñas on Kentuckyteacher.org.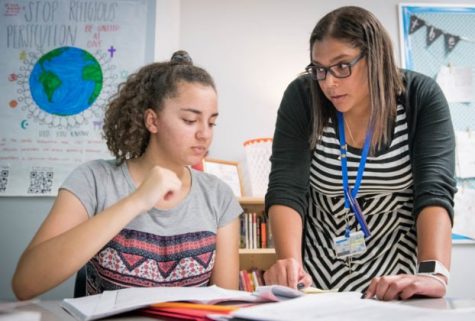 Clayton-Taylor and Marsh received $3,000 each and customized crystal awards from Valvoline, while Dueñas received $10,000 and a customized crystal award. In addition, the Kentucky Department of Education will provide a sabbatical or suitable alternative for Dueñas, who also will represent the state in the 2019 National Teacher of the Year competition.
The three winners weren't the only ones receiving awards. 21 other teachers were given $500 for teaching excellence. Brooke Powers of Lexington's Beaumont Middle and Lindsey Depenbrock of Wellington Elementary were two of the 21 winners. One of the teachers that received an award teaches here at Lafayette, Susan McLaughlin-Jones, or known by many students, Dr. McLaughlin.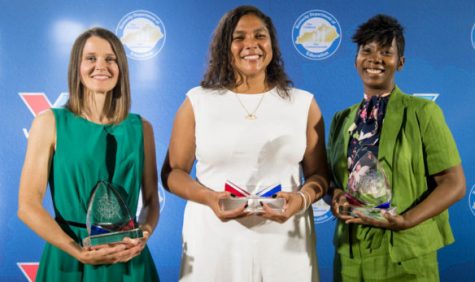 The Kentucky Teacher Awards program combines the best elements of what was formerly known as the Ashland Teacher Achievement Awards. Now, as an independent, publicly traded company with its world headquarters in Lexington, Kentucky, Valvoline is a proud sponsor of the Teacher Achievement Awards and the Kentucky Teacher of the Year programs. Since 1988, the program has awarded more than $825,000 to 572 teachers.
About the Contributor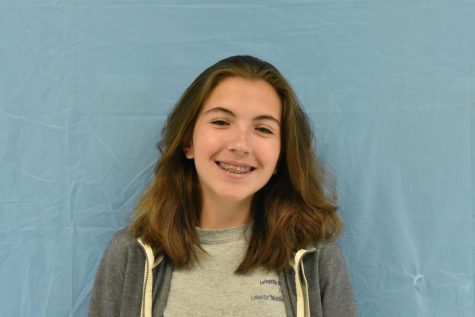 Maire Birdwell, Managing Editor and Features Editor
Maire Birdwell is a sophomore at Lafayette, and she is happy to say that she is the Managing Editor and Features Editor!  She contributes to Lafayette...