2019-2020 School Scheduling
Picking classes for the upcoming year can be overwhelming at times with the stress of doing well in the class, and yet not becoming bored with the subject. For those who do not know, the school counselors will be coming around to all Lafayette English classes on January 17th and 18th to give everyone their schedule cards for the upcoming year.  So try and make sure to be present at Lafayette. Not only will that the school counselors will also be giving information on scheduling for the 2019-2020 year.
For example, the counselors might give suggestions on classes to take for an average student. Taking all advanced classes looks nice for your credits, but is it really worth the stress you put yourself in. If taking all advanced classes is your thing and you do it well then, by all means, take advanced classes, and maybe take an AP class or two. Now if a student is to choose all general classes that could be a hard time, too. General classes are slower, but they also have a bunch of kids who don't want to learn. So that means they'll do anything to disrupt the class. Unfortunately, a few students can affect everyone's learning.
Here is some advice to help you pick your classes. Try and take a variety of classes. Do your best to challenge yourself by taking a few advanced class, maybe just the ones you did well in the past. It is perfectly fine to take a general class or else Lafayette wouldn't offer those classes. Challenging yourself is one of the best things you could do. It can help show a student's growth, and boost their self-esteem. So if you are capable of handling an AP class ,take it. AP classes count towards college credits.  To elaborate on this maybe try and take a couple advanced classes, one or two general classes, and possibly an AP class.
If that's not enough reasoning then let Mr. Gross, a freshmen English teacher try and teach you something:
"When it comes to recommending courses to students for next year, I always advise looking into classes that align with your interests. While that might not make for an 'easy' schedule, it is oftentimes a way to practice skills and concepts, related to your core classes, but in a more interesting way. For this reason, I recommend Sci-Fi and Fantasy to a lot of students looking for an elective, who do well in English classes and enjoy stories in those genres. Along the same lines, if you are interested in business, consider a marketing class, or if you're thinking about entering a specific trades or vocation look into what the vocational schools offer.
Additionally, I encourage students to challenge themselves. Are you doing really well in a general class? If so, talk to your teacher and consider taking an advanced course next year, or moving from advanced to AP.
The last thing I would add is, make informed decisions; talk to a teacher who teaches that course or a friend that is or has taken it. This will help you gauge whether it is the right class for you or not; it's your time and your education so take ownership of it whenever possible."
So good luck to all students that will be enrolled for the 2019-2020 Lafayette high school year, and good luck to all seniors starting a new chapter in your life come May 2019. The schedule cards will be due on Tuesday and Wednesday, January 29th and 30th.
About the Writer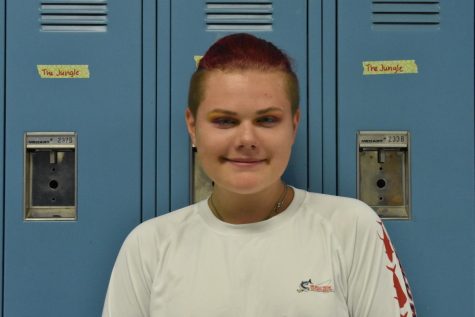 James Barnett, News Editor
James Barnett is a freshman at Lafayette High School. James is a part of the GSA club. He enjoys going out to the local football events, but only for the...