Fayette County FAME Awards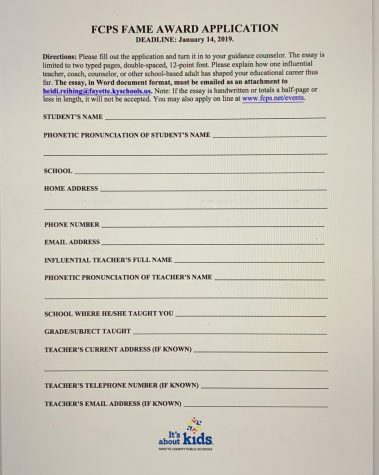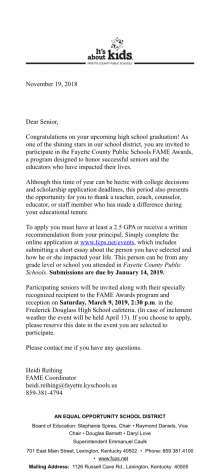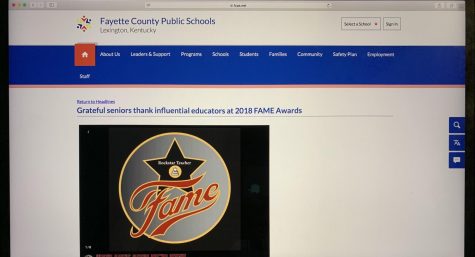 Are you a senior and have a favorite teacher that you think deserves more credit? Well, here is your chance. The Fayette County FAME Awards are where graduating seniors are encouraged to nominate a favorite teacher, counselor, coach, or mentor who has made a significant impact or difference in their lives. All seniors will receive a letter inviting them to participate in the 2019 FAME awards. The event will be held on March 9, 2019, at Frederick Douglass High School in the Cafeteria at 2:30 pm. However, in case of severe weather, the event will be held on April 13th.
In order to nominate a teacher, a student must have at least a 2.5 GPA and a recommendation from their principal. They must also fill out an application and turn it into their guidance counselor. They have to write an essay which is limited to two typed pages, double-spaced, and 12-point font. In this essay, the student should explain how one influential teacher, coach, counselor, or other school-based adult has shaped their education career so far. The nominee can be any from any grade level or school but they have to have been from Fayette County Public Schools. The essay should be emailed, in Word document format, as an attachment to [email protected], the FAME coordinator. For any questions students might have, the previous email listed can be contacted. Students can find the application online here. If the essay is handwritten or is a half page or less in length, it will not be accepted.  The deadline for submitting this essay is January 14, 2019.
For more than twenty years, seniors from Fayette County Public Schools have been invited to share how their relationship with a particular mentor has affected them in a special way. After students submit their essay, the panel at It's About Kids support services judges them and chooses the strongest ones. One essay is chosen from each school. The winners then read their essays aloud at a district-wide event, while the rest of the students introduce their nominees by reading an excerpt from their essay. FAME award nominees will be "selected on the strength of the essay submissions, [and] are recognized at a program honoring the impact that educators can have on the students they serve". Some of the previous years' winners from Lafayette include Stephanie McDermott, nominated by Katie Swim in 2015, Phil Kent who was nominated by Eli Dreyer in 2018, and Jonel Sallee nominated by Miranda Holm-Hudson in 2013. Many teachers from Lafayette were also nominated multiple times by students in 2018 although they did not win. Some of these teachers include Zach Matson, Tracy Lambert, Timothy Mitsumori, and Jessica Mitchell.
Many community partners help to make the year's event a success. For example, in 2018, Lowe Promotions gave a Barnes and Nobles gift card to each student that won the essay part of the nomination, as well as Staples and Target. For the teachers that won, Texas Road House donated a dinner for two. Each nominee also received a FAME certificate and a matted copy of their student's essay along with a photograph of them after they crossed the stage.
Seniors, don't delay. Nominate the teacher who has had an impact on your life. Applications close on January 14, 2019.