Cult Reviews- Donnie Darko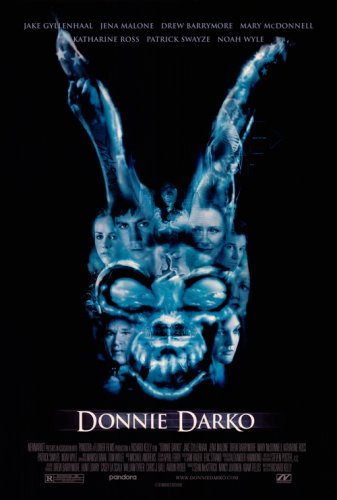 This week we will be looking at 2001's fantasy/drama film, Donnie Darko, starring Jake Gyllehaal, a compelling film which has been described as haunting, evocative, honest, and uncanny. The film depicts a mentally-ill teenager who appears to have delusions and who shows symptoms of paranoid schizophrenia. Known for dangerous sleepwalking around the town, one night he comes into contact with a huge bunny rabbit, named Frank, who tells him the world will end in a month and convinces him to commit acts of violence. The teen also begins to explore what exactly it means to be alive.
Donnie Darko's complex story is one that demands full attention and requires the audience to watch it more than once. The film's emotional range is outstanding, which manages to portray love, dread, and hope, while exploring parallel dimensions and time travel. The film's solemn tone juggles dark humor and suspense as well as themes such as love and sacrifice, and redemption. Gyllehaal's performance is simply outstanding and the film has become a cult favorite for a reason. The beautifully ambiguous film is completely surreal, is open to interpretation and has one heck of a haunting soundtrack. The film is truly a work of art but isn't without its flaws. Many point to the film's unapologetic humor, its stereotypical characters and its over complicated plot. For this, we rate it 8.5 out of 10.