Counselor Profile: Ms. Day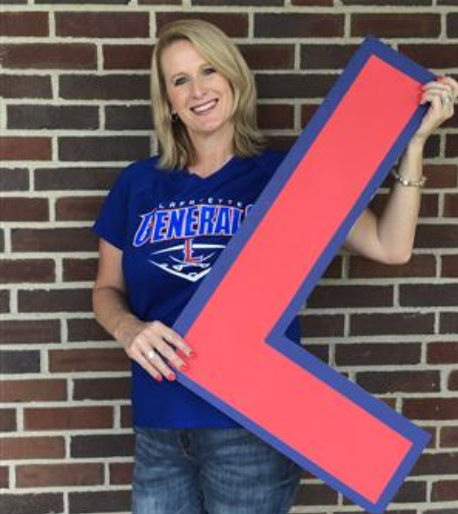 Sarah Day is an all- grades counselor who counsels students with the last names anywhere from O or P to S. She got her undergraduate degree, a Bachelor's of Arts in middle school education at University of Kentucky and her Master's  degree in counseling at Eastern Kentucky University. She wanted to be a high school counselor because when she was young people went to her for advice and she loved helping them. She also wanted to have another option to teaching.
Ms. Day does many things throughout her day including: talking to kids about their problems or issues, updating transcripts, organizing testing, discussing with students their  plan after high school, and writing college recommendation letters.  Her favorite part about Lafayette is getting to know the kids, and helping them reach their goals. When asked what she thinks students need, she stated, "All the students need a guide to navigate high school and for the future, academically and socially."
Ms.Day enjoys reading, binge watching shows on Netflix, watching her son play baseball , and attending UK football games this season. She has three kids, her 24-year-old daughter Elizabeth attends Georgia State University, her 20-year-old son Austin attends the University of Kentucky , and her son Collier is a senior at Lafayette High School. She lived in Japan for two years due to her husband's job transfer, but made sure to come back to Lafayette when her family returned to the States.
Ms. Day's advice to students is to "try to be the best you that you can be now, and keep your future in view." That's why we have a guidance office. It's there to support students through many aspects of their high school jouurey. All of our counselors provide open environments, if you need advice or guidance, academic planning, what classes to take and all, conflict resolution, provide resources for mental health needs, and assistance with ACT/SAT tests. Our counselors  have lots of connections and students should make sure they utilize those connections. She says, "It's easy to get lost in high school and [students] don't think ahead into the world." Counselors like Ms. Day are there to help students navigate their way through high school life and stay focused on their future.
About the Writer
Dylan Proctor, Features Writer
Dylan Proctor is currently a freshman attending Lafayette High School. She is one of the cartoonists and is also a Features writer for The Lafayette Times....