Womens Choir Festival
On Thursday, November 14, the Women's Choir and the Advanced Women's Choir from Lafayette Choir went to the Women's Choir Festival. They were joined by the Paul Laurence Dunbar Women's Choir, 8th grade girls from Leestown Middle School conducted by Lynn Przygoda, and 8th grade girls from SCAPA Bluegrass conducted Amanda Wells. It took place at Porter Memorial Baptist Church.
The concert was at 7 p.m. for families, friends or anyone to come to and it was free. They had lunch here at school, and left school around noon. The church that they went to was Porter Memorial Baptist Church, which caused them to miss their last blocks of the school day. They stayed all day, rehearsing and practicing. After the first rehearsal, UK's Paws and Listen a capella group came and sang for the choirs.
The Lafayette B1, the Advanced Women's Choir, sang first to start off the concert. They sang Quem Te Ensinou a Nadar and In Time of Silver Rain conducted by Mrs. Laura Howard. Then, the Dunbar Women's Choir went next and sang Sesere eeye and There is Peace by Mrs. Tiffany Marsh. Finally Lafayette, Dunbar, Leestown and SCAPA Bluegrass sang Exaudi Laudate, I Am In Love, Kompira Fune, Fune, and The Lobster Quadrille to end the concert.
The choirs changed from their school supporting choir shirts into sophisticated long black dresses and formal black shoes. It was now time to show all the weeks of hard work to family and friends. The choir's guest conductor, Dr. Michele Paise from Morehead State University, worked with them on the songs and also conducted them during the concert. They were accompanied by Karina Johnson. The concert was about 45 minutes. With all the choirs on the stage after they finished performing, they got a standing ovation. The concert was a success.
About the Contributor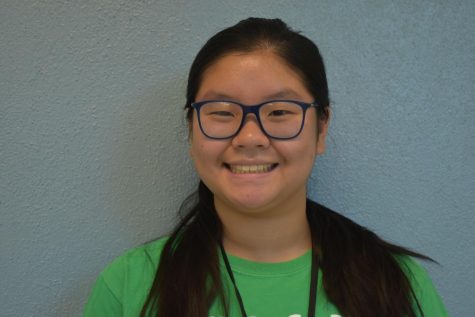 Abbey Hall, Arts Writer
Abbey Hall is a freshman at Lafayette and this is her first year in Journalism. She is a staff writer for the arts section. Abbey participates in choir...