Tates Creek Defeats the Lady Generals
Lafayette's Girls' Basketball team played in an away game against Tates Creek on February 22, 2020. The girls split on both sides of the gym and warmed up, then the game began. Both sides had lots of support in the student section.
First quarter started and the game was running smoothly. The part of the game ended with a score of Lafayette with 12 points and Tates Creek at 19.
The second quarter started, and Tates Creek missed the first free throw. Sophomore Olivia Cathers made the first free throw shot. During the second shot there was a lane violation, so Olivia was allowed to make another free throw shot. She shot it in getting them closer to Tates Creek with a score of 17-21. The second quarter ended with a score of 21-36 with Tates Creek in the lead. After half time, the third quarter began.
The game was going on very quickly. We had a deep three off the rim. We were losing by 6 points as of now with 40-46. With 61 seconds left of the third quarter, there was a foul on the floor. Noble on the Lafayette team makes a three point shot. The last shot was off the rim shot and the score was 45-48.
At the last quarter of the game, the Tates Creek crowd was starting to get more excited and things were speeding up and getting more intense. Lafayette missed a free throw shot but made the second one, giving us one extra point raising our score to 52. Tates Creek is now free throwing and they missed. Tates Creek is leading Lafayette with 5 points. Lafayette shot two free throws, giving us two extra points but Tates Creek still had a lead with 5 points. Unfortunately, our Lady Generals lost.
The Tates Creek team played very well. The Lady Generals tried hard and put forth a great effort in the game against Creek. The coaches coached those girls and worked very hard at practices. We thank all the parents, students, and staff that went to watch this away game at Creek. Your support impacts the girls and the school greatly.
About the Contributor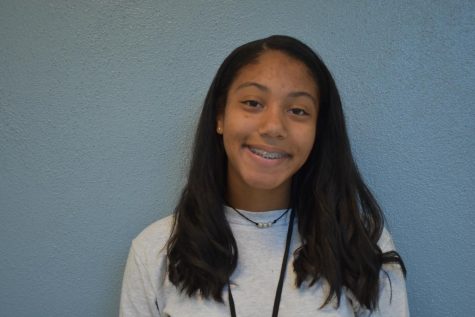 Kori Moore, Sports Writer
Kori Moore is a writer and photographer for the Sports section. She is a freshman and this is her first time writing in Journalism. She enjoys photography...