JV and Varsity v. Montgomery County
On September 28th, Lafayette boys Junior Varsity (JV) Navy and Varsity team faced Montgomery County in Mt. Sterling, Kentucky. Montgomery county had a standing of 10-5-1 and was ranked first in District 39, and second in Region 10. Varsity had a standing of 8-3-2 and JV Navy had a standing of 11-3-0.
Will Jones and Mark Ruddy officiating the game. JV with 10 minutes left in the first half, are up 3-0. Fast start for our Generals in shutting down Montgomery County. #12 (Abdullah Bahrani) scores at 7:30 minutes left in the first half, making it 4-0. At 5 minutes, the score went up to 5-0 with a close kick into goal. Leading into Halftime, the score reached 5-0.
Second Half, Penalty Kick at 31 minutes left, #9 taking the kicks and scoring Lafayette's 6th goal. 21 minutes mark, 7th goal is made by #9 (Charlie Quinn). 9 minutes left, 8th goal scored by #19 (David Rodriguez). Final score, 8-0. Head Coach, Adam
Mark Ruddy and Will Jones once again officiating the Varsity game. Goal made by number #22, Josiah McKinney at the 35:30 minute mark. Second half, with 3 minutes left in the game, the score jumps up to 2-0 with a shot from #2, Fredy Karezo. With 3 seconds left, an attempted shot from Montgomery County was blocked by goalkeeper Logan Bittner.
Varsity Head Coach, Chris Grimm, said in an interview, "The mentality of the game was definitely there, the boys were very positive and uplifting." And that they were. We interviewed Nadeer Duek, the designated player of the game. He told us, "I'm glad that I could contribute to the team…" His contribution led to the second goal of the game.
An unfortunate loss for Montgomery County, Head Coach, Kevin Miles, "In the game of soccer you got to have luck and unfortunately Lady Luck wasn't there for us." A tough game with a great result. It was definitely a great day to be a general for our boy soccer team.
About the Contributor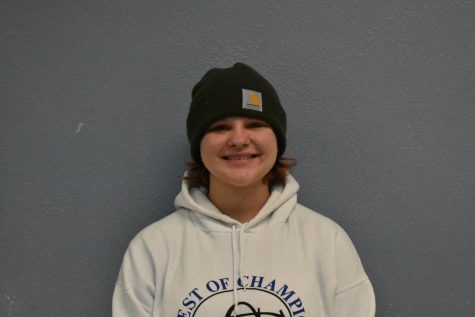 Grace Tomazic, Staff Writer
Grace Tomazic is a freshman at Lafayette High School. She is a member of the Lafayette Marching Band and Concert band. Outside of school, Grace participates...