2021 Halloween Costume Ideas
With fall now making its appearance, it's the time of year in which you go to the pumpkin patch and pick out the perfect pumpkin, watch Halloween-themed and scary movies, drink pumpkin spice lattes while warming up near the fire, and watch the autumn leaves fall from the trees outside your bedroom window. With all of that in mind, and Halloween being mentioned, I'm sure many of you haven't chosen your costume this year. There are many choices of costumes this year, so it can get very confusing getting to choose which you want to be. Many options lay ahead, you just have to get a few ideas.
The first option could be dressing up as a movie/tv show character, whether it be your favorite or not. Marvel, Star Wars, Harry Potter, Divergent, Hunger Games, etc. you have many options. With Squid Game coming out on Netflix, you could be one of the guards, the frontman, a VIP, a player, etc. If you really want to make some people cry, dress up as Ali (player 199) and carry around some marbles or pebbles, it's sure to make some people tear up, reminding them of episode six. Phase 4 of the Marvel franchise has come out with many new movies and tv shows, bringing in new characters. You could dress up as Yelena Belova, Agatha Harkness, Mobius, any variant of Loki (yes, including the alligator), etc.
Even dressing up as characters that have been around for a while and honoring the members who have fallen. Tony Stark, Steve Rogers, Natasha Romanoff, etc. Maybe dressing up as the Scarlet Witch, Winter Soldier, Falcon, or Shang-Chi could be one of your options this year. Speaking of Marvel, Disney-esque movies have also been on the rise lately with Cruella, Raya and the Last Dragon, Luca, and more coming out. Creating a Disney bound costume to wear could be an excellent idea. Cruella De Vil could look really cool, and if you look in your closet you could find something.
The second option could be a book character. Already mentioned are Harry Potter, Divergent, and Hunger Games. Other options could be The Selection series, Shadow and Bone trilogy, Percy Jackson series, etc. Whatever book character you would like to be, go ahead and create or find a costume for it. With the Shadow and Bone trilogy getting its own show on Netflix, costumes could include Alina Starkov, Nikolai Lantsov, Genya Safin, Tamar Kir-Bataar, The Darkling, etc. if you have read or watched the series. Any book series that you've read, you can come up with a costume for that character, just be creative.
Another option you could choose is to dress up as anything scary. I'm talking Freddy Krueger, Jason Voorhees, Michael Myers, Annabelle, even the Chucky doll. It is the season of scares after all. You could get your friends together and dress up as characters from the Purge, just going around creeping people out on Halloween night. Just don't commit any crimes. Dressing up as a clown could be a real scare, it doesn't even have to be creepy. One look with a clown costume and people will steer away from you and possibly scream, depending on the person. Other Ideas could be really any character from your favorite scary or thriller type movie. Want to dress up as Pennywise, Linda Blair, or say Wednesday Addams? Go for it.
There are so many costume ideas for this year alone. If you haven't gotten a costume yet, you now many so many ideas for what you'd might want to be. You could also search in your closet or your parent's closet to find something that might give you an idea for a costume. This season is full of scares and treats. Go to a haunted house or Fright Nights with your friends and have an amazing time getting a scare around each corner. Be creative, dress up, and have a great time Sunday, October 31st.
About the Contributor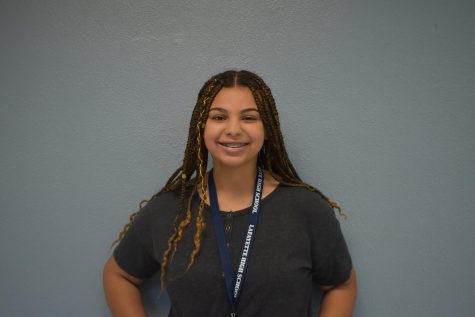 Julia Burns, Staff Writer


Julia Burns is currently a freshman at Lafayette High School and is enrolled in the School for Creative And Performing Arts as a piano major. She was...