Previewing: Girls Basketball Season
This season for the 2021-2022 Lady Generals Basketball team is looking strong. The Lady Generals have stepped up their game and will be going for a state championship this year. What are we to expect?
Team member and senior Anaya Brown is certainly one to watch. Her past record has been through the roof: Last year's regional game against the Madison Southern's Lady Eagles, Anaya "notched yet another double double, carrying her momentum from the 20/10 performance against Scott County." (Josh Smith, March 25th 2021 Article).
You don't want to forget Olivia Cathers. Along with Brown, the pair played all 23 games last season and scored 201 points. We can't forget last year she started off our game against Madison Southern strong with a mid-range jumper. Not only that, in the same game, Cathers scored back-to-back threes with former player Lauren Walton.
Definitely watch and mark your calendar for their triple headers against our cross town rivals, the Dunbar Lady Bulldogs, December 16th and January 18th. Tates Creek is always a tough team to beat. Last year their win-loss record was 8-12. Definitely a good challenge and fun game to watch. Just last year, we lost 49-52 against Tates Creek. Lafayette v. Tates Creek games will be the Triple Header on December 14th and Triple Header on January 14th.
The district tournament will begin February 21-25 at Lafayette High School, with a possible regional tournament February 28 through March 4 at EKU. Iif the team makes it to State, it will last from March 6-12 at Rupp arena. Our Lady Generals hope to walk onto that court in Rupp Arena, heads held high and proud, ready to take on the toughest of teams for the title of State Champions.
This year, the team will consist of:
#0 – Madeline Compton – G
#2 – Kierstyn Kelley – Pt/G
#3 – Abbey Popham – G/F
#4 – Anaya Brown – G/F
#5 – Rylan Music – F
#10 – Catherine Jacobs – Pt/G
#11 – Bella Combs – F
#12 – Savannah Simpson – G/F
#13 – Caitlyn Fuamatu – F
#14 – Shemetria Marshal – G
#15 – Olivia Plank – G
#20 – Narrah Wilson – F
#21 – Kenzie Day – F
#22 – Anna Clay Denton – Pt/G
#23 – Lauren Walton – G
#24 – Gracyn Grantz – G
#30 – Tess Nelson – F
#32 – Jackie Tishibangi – F
#33 – Skylar Davis – G
#34 – McKenzie Harney – F
#35 – Olivia Cathers – F
#40 – Alondra Gonzalez-Perez – G/F
About the Contributor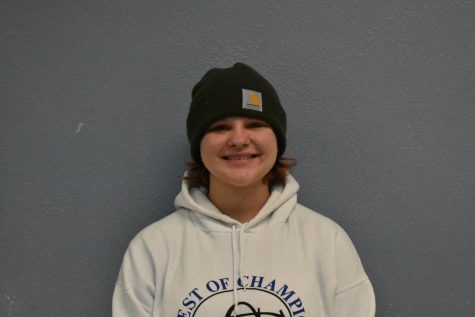 Grace Tomazic, Staff Writer
Grace Tomazic is a freshman at Lafayette High School. She is a member of the Lafayette Marching Band and Concert band. Outside of school, Grace participates...