GENERALS SLAY TITANS: 6-2
The #10 Lafayette Generals secured a win over the Mercer County Titans Friday night: 6-2.
After two defensive innings for both sides, the Generals gifted the Titans a 2-0 lead in the third inning thanks to two defensive errors.
Ben Prather took it personally.
With a runner on second, the uncommitted senior blasted a 360-foot bomb to left-center field, tying the game at two apiece.
"Being the [4th] hitter, I [knew] I'd get a lot of off-speed pitches," commented Prather on Saturday. "With an 0-2 count, I crowded the plate, daring the pitcher to throw inside, which he did, and I took a hack at it and knew it was gone off the bat," he continued.
The Generals expanded on their lead by scoring three runs in the sixth inning. After Louisville Baseball commit Owen Jenkins blasted a right-field double, the Titans intentionally walked Ben Prather. Two batters later, the Generals had added a run to their total. Next, a Burkley Bounds shot to center-field drove in two extra runs to push the Lafayette advantage to 6-2.
"There was a change of mentality. We really wanted to be aggressive at the plate… and it worked out," commented Jenkins.
For Lafayette, 'Take it personal' wasn't just the thought of Ben Prather- but the entire team.
"It really [gives] us emotion. It gets us going," commented Jenkins. "When we take it personal when they do something bad, we make 'em pay."
"It's a team mentality," commented Lafayette Head Coach Chris Langston. "When a guy gets an intentional walk in front of you, that means it's your time to step up. 'Take it personal' means to do your job," continued Langston.
Xavier Harmon and Carter Owens also had fantastic outings on the mound. Harmon only gave up one hit in three innings, while Owens was credited as the winning pitcher and gave up no earned runs.
"I really liked the way our pitchers attacked the strike zone," commented Langston. "Xavier Harmon and Carter Owens did a really good job of going after it."
Pitching appears to be one of the deciding factors for Lafayette this year.
"We've still got to see what kind of pitching we have. We just have a lot of unknowns… It's all new for us. We've had good starts from Burkley [Bounds] and Jared Eisminger, so now with Xavier coming up, we just have to keep seeing who keeps coming up to make plays for us."
(About moving forward) "Don't let pitchers beat you," commented Mercer County Head Coach Cody Christopher following the game. "Don't leave it in the umpire's hands. We had six looking strikeouts, that's just unacceptable. If you have six looking strikeouts you're never going to win a game against a quality opponent," lamented Christopher.
"I'd say that's a huge contribution to why we lost tonight. I mean, that's just not even giving ourselves a chance," he continued.
The Generals will travel to Louisville to play a relentless Ballard squad Tuesday night at 5:30. Ballard is 24th in the Prep Baseball Report preseason top 25, creating an opportunity for the Generals to secure a quality early-season win.
About the Contributor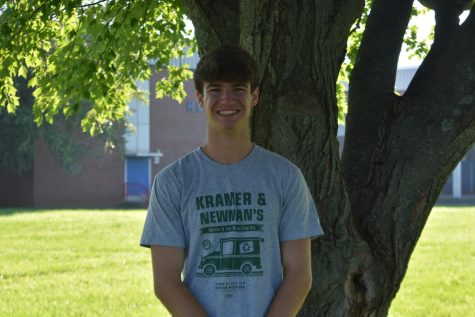 Josh Smith, Editor in Chief
Josh Smith is the Co-Editor-in-Chief of The Lafayette Times. Before heading The Times, Josh spent two years as the lead sports reporter. He has four younger...