Mr. Steele: Staff Profile
Mr. Steele (in room 607B) is an Engineering teacher here at Lafayette. The Lafayette Times interviewed him about his classes and what they offer the students.
Times: What classes do you teach at Lafayette?
Mr. Steele: I teach Introduction to Architecture, Civil Engineering and Architecture, Architectural Design, Engineering 1, and Engineering 2.
Times: What unique skills can students learn and apply from your class to other classes and life?
Mr. Steele: We do a lot of critical thinking and creativity here. It's also especially in Engineering courses. It's a lot of teaching- you all have to figure things out and apply mathematics and science in a real-world way. In architecture, you're learning about different styles of buildings, how to lay them out, how to build, and how to construct [them]. That will come in handy later in life if you ever build your own house.
Times: What is your background in engineering, and what makes it so appealing to you?
Mr. Steele: I have a degree in architecture. I spent seven years working for Ricci Greene Associates and CGL, an architectural firm that just closed up this year here in Lexington. I spent my time on courthouses, jails, and prisons all over the country. I also have a small business in residential design and construction. What I love about architecture is that it's creating space for people and making it where you're creating their biggest investment, and people are usually pretty happy when you're done with it.
Times: Who would you recommend your classes to?
Mr. Steele: [I would recommend my classes to] anybody interested in learning about Architecture or Engineering. You have to have an eagerness and a willingness to learn, and you have to have an open mind to some new ideas.
Times: What interesting technology do you use in your classes?
Mr. Steele: We use Revit and Inventor. We are also in the process of purchasing a laser cutter. We work with Bridge testers and we hand build as well.
Autodesk inventor is an engineering design software platform that creates precise 2D and 3D models of designs. Revit is used to track the building stages of a construction project from conception to completion.
Times: What is your favorite field of engineering and why?
Mr. Steele: My favorite field of engineering is Civil Engineering because it has the greatest connection to my background. I love working on spaces that people inhabit.
Times: How necessary is it that you are good at math for engineering?
Mr. Steele: It's not. Again, it goes back to wanting to figure things out. Now, as you get farther along, depending on what type of engineering you want, you may have some pretty heavy math burden, but in architecture especially, you don't have to be great at math.
Times: What other interests do you have outside of Engineering?
Mr. Steele: Outside engineering and Architecture, I also enjoy interior design. Outside of that, I'm a distance runner. Half marathons are my favorite distance, and I'm training right now for a marathon. I also enjoy traveling and seeing friends.
Mr. Steele's classes give students independence and allow creativity while applying their math, science, and engineering skills. If this interests you, then Mr. Steele's classes would be a good opportunity for you next year.
About the Contributor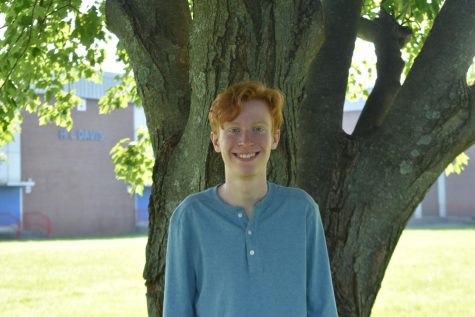 Andrew Briggs, Staff Writer
Andrew Briggs is a Freshman at Lafayette and is enrolled in the Pre-Engineering Program. He's a former SCAPA drama student. He plans on writing reviews,...