Lafayette Times Poetry Contest Round #3
Hang on for a minute...we're trying to find some more stories you might like.
Below are the two selected nominees for the third round of the 2018 Lafayette Poetry Contest. Vote for your favorite out of the pair, and the winner of that voting will be our final winner!
In light of spam, here are some friendly reminders: everyone is encouraged to vote, although everyone is limited to one vote each and unsportsmanlike methods of gaining votes will not be tolerated and will cause poems to be disqualified. Suspicious amounts of voting will be scrutinized. Voters should only be Lafayette affiliated community members. If there is too much spam, the Times staff will decide the winner.
Voting will end April 16th, and the winner will be announced below.
Poem #1
By Philip Dority
Letter to an Addict
What could I do?
I never knew
how'd you go from good at school
to no shoes
you were troubled
I know
you struggled
so slow
yet it happened so fast
gradual but soon the turning point past
we reacted aghast
something so extreme that it surpassed
what we could've expected,
never suspected that u injected
didn't detect it
and now we're infected
addicts don't have relationships
they take hostages
but maybe this is our fault
did we break our promises?
to love and care through all the wear
upon these values did we share
never once did we think to break this swear
yet here we are
and you
there
this disease affects you monumentally
physically and mentally
it changed our lives heavily
but I want you to listen carefully
you are not a regret
you are not a mistake
we have always loved you
and still do this day
our love is not fake
you are wanted
we want you with us
and not departed
I'm sorry if I've failed you
what's done is done
maybe I could've done more
or maybe I've overdone
but now there's only one goal
and that's for you to win
I've been cheering for you
and I will beginning to end
please come back to the living
the land of your friends
your family misses you
we want you healthy again
-Letter to an Addict
Poem #2
By Susie Slusher
i fell in love with a poet once
the last time you saw the moon
you used the curve of the cresent
to represent the slim of my waist
as if the rocks declaration of nighttime
was enough to make your
insides roar.
the gleam of the universe
made nothing less than an
animal out of you , yet
i still let you claw out my insides
because im sick
of being a metaphor to you.
i want to be your morning coffee,
to be some type of drug
keeping you stable throughout
the day, not an urge
trapped beneath your teeth
that keeps you strained
throughout the night
Which poem do you prefer?
Poem #2 (70%, 7 Votes)
Poem #1 (30%, 3 Votes)
Total Voters: 10

Loading ...
Congratulations to Susie Slusher!
About the Writer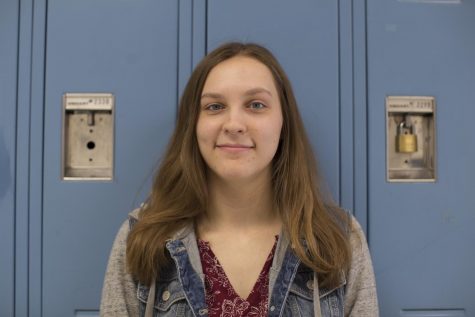 Ella Johnson, Editor-in-Chief
A member of the Lafayette newspaper when it was the Lafayette Ledger, Ella Johnson is now Editor-in-Chief of the Times. Being a senior, she seeks to pursue an English degree with a concentration in technical and creative writing. Ella has interned at Blood-Horse magazine and will attend Eastern Kentucky University.