School Profile: Daily Duties of Cafeteria Staff
Hang on for a minute...we're trying to find some more stories you might like.
There are five lunches every school day. The Cafeteria staff works hard for preparing the food for the students, serving the food, and cleaning the tables afterwards. Their duties are more than what you think.
The duties of a cafeteria staff member start with the people who prepare the food. These people make the ideas for what the food shall be, gets the ingredients needed for the food, and prepares them for long periods of time so that there would be enough food for everyone in school. They must keep some foods cold in refrigerators, and others hot under flames. They must make sure that the food will be exquisite for the students to enjoy.
The second duty of a cafeteria staff member is the ones who serve the food. The servers must know how much food should be given to each student. They also keep up with the different lunch lines right with the types of different cuisine that the students want.
The third duty of a cafeteria staff member is the people who clean. These people clean the lunch lines, the tables where the students eat, the trash, and the trays. These people work very hard to keep the cafeteria clean everyday. The area where the food is served in the lunch lines are needed to be cleaned for the next day for new foods to be placed in. The tables where the students eat are cleaned and sanitized every lunch block. The trash also needs to be taken out after the lunches are over. The trash is taken out everyday, due to the amount of waste that is thrown into the trash cans. The trays are obviously cleaned as well for the next lunch blocks.
Rebecca Bishop, an Editor-In-Chief for the Lafayette Times, says "The staff [is] really kind and talk to you, they know your name, and they go through a lot of kids, and still are kind. They work really really hard for us."
The Cafeteria staff are really hard workers of Lafayette. They do so much for us food wise, and their duties of the cafeteria are very important for us all to realize and be grateful for.
About the Writer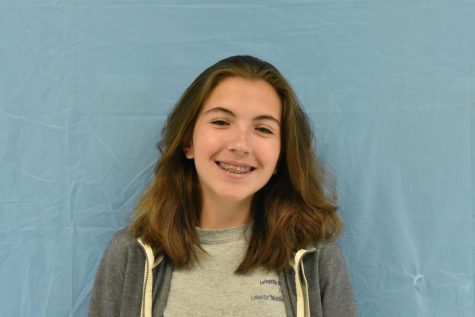 Maire Birdwell, Managing Editor and Features Editor
Maire Birdwell is a sophomore at Lafayette, and she is happy to say that she is the Managing Editor and Features Editor!  She contributes to Lafayette...