This Day in History – April 10th
Hang on for a minute...we're trying to find some more stories you might like.
On this day in 1953, the first color 3-D film opened at New York's Paramount Theater. The movie was called The House of Wax, a horror film starring Vincent Price.
The House of Wax was a remake of 1933's Mystery in the Wax Museum. The movie was directed by Andre De Toth. According to History.com, "The film told the story of Henry Jarrod (Price), a sculptor who goes insane after his partner burns their wax museum to the ground in order to collect the insurance payout. Jarrod survives the fire and later opens his own wax museum, featuring an exhibit immortalizing crimes past and present, including the murder of his ex-partner by a mysterious disfigured killer. The film's heroine, played by Phyllis Kirk, eventually discovers that Jarrod himself is the killer, and that the museum's "sculptures" are all the wax-covered bodies of his victims."
The 3-D process included two cameras, or a twin lens camera, to represent both the right and the left eye of the human viewer. The audience of The House of Wax had to watch the film through stereoscopic glasses to get the movie's full effect. The lenses were tinted so the viewer would see the right-eye and left-eye images only with the eyes for which they were intended. "The 3-D process proved especially effective during the film's climactic chase scene, in which the cloaked killer pursues Kirk's character through a series of gas-lit streets and alleyways, with the viewer following along behind them," History.com says.
The House of Wax earned $4.3 million at the box office. The movie also started a chain of similar 3-D thrillers, including The Mad Magician (1954). The popularity of 3-D lasted only about a year; its demise was generally blamed on the poor quality of the 3-D films produced.
About the Writer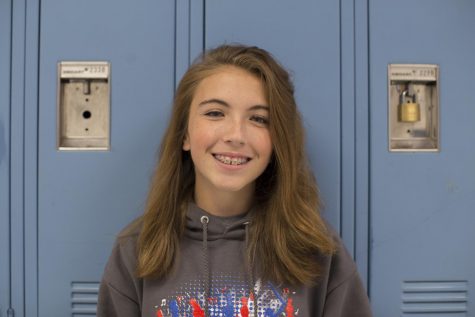 Maire Birdwell, Design Editor
Maire Birdwell is a freshman at Lafayette and she is happy to say that she is the Design Editor.  She contributes to Lafayette by marching with our outstanding band, helping others, and giving our school a good atmosphere. Her whole life is surrounded by music since her parents are both music professors, and listening to...